Goodman Food Products is Founder and CEO Bob Goodman's dream come true. During his 40 years as a food industry executive, Bob learned to be a good listener. In fact, he gets most of his great ideas from people like you. So, when you told him you appreciate the benefits of living a gluten, dairy free lifestyle, but were disappointed by taste, Bob took the challenge.
The mission of Goodman Food Products is to bring breakthrough taste to gluten, dairy, and peanut free baked goods. Consulting with expert bakers, far and wide, Bob discovered a family-run bakery with years of experience baking in their dedicated gluten free, dairy free, peanut free facility. Working together, day and night, they developed and perfected the Goodman line of baked goods we bring you, today.
First and foremost, Goodman baked goods are about taste, delicious taste! Whatever drives your craving, a gluten free lifestyle, a dairy free treat, or simply a tantalizing indulgence, Bob is sure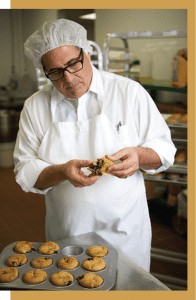 you'll find Goodman baked goods irresistibly delicious.
Take your taste buds on holiday. Dive in and experience our complete line, including: Cinnamon Raisin Bread, Whole Grain Bread, White Bread, Chocolate Chip Cookies, Oatmeal Raisin Cookies, Brownie Cookie Bites, Blueberry Muffins, and Chocolate Chip Muffins. Delicious Comes to Gluten Free with Goodman.